Workshops
Roger Groom, who runs this website Astro Photography Australia also hosts workshops on astrophotography in Perth Western Australia. This page outlines the current workshops planned. Follow links to the workshop information to make bookings or enquire.
I am passionate about astronomy and astrophotography, and love having any excuse I can to get others enthused also.
I am based in Perth, Western Australia and currently that is where I run my workshops. If you are interested in me running an Astrophotography Workshop for you, your community group, photography club, etc then you are welcome to contact me. All courses are night-time or weekend subject to my availability.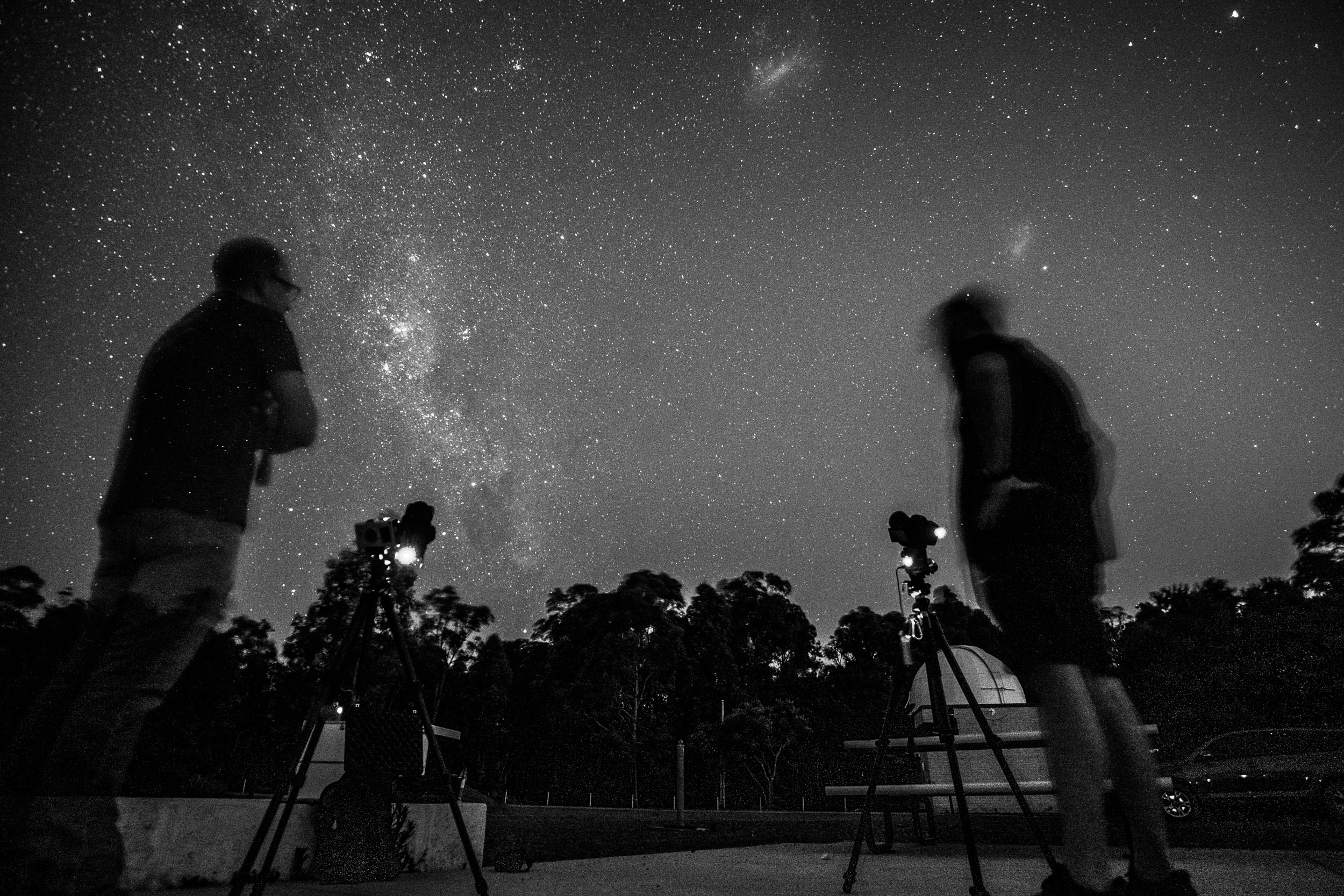 Why learn with Roger Groom
I have all the equipment for you to try astrophotography using your camera including several different models of the leading ultra-portable tracking mounts common for nightscapes. Try before you buy.
I maintain a set of up to date adaptors for fitting your camera to a telescope including 15 T-Rings for Canon (including Canon R), NIkon (including Nikon Z), Sony (Alpha and E mount), Pentax (K and M42 thread), Olympus, Panasonic Lumix, Fuji X.
I have 20 years of astrophotography experience in a diverse range of subjects.
I communicate well with beginners through to advanced, able to work at your level of knowledge and adapt my experience to your scenario.
Where I run Workshops
Astrophotography workshops are typically run at either Perth Observatory, my dark sky site at Astro Photography Australia (2 hours east of Perth in the Central Wheatbelt), at Lake Leschenaultia, or at your house or property.
I typically find that Perth Observatory is most convenient and suitabel for metropolitan customers. Those more serious about their dark skies enjoy the drive to my Astro Photography Australia property, and those who are after tuition on using their telescope for astrophotography are best having me around to their house/property where they would ordinarily use their telescope, so we set it up under the same conditions they would normally. I also run workshops online.
Online Workshops
I run workshops online, live, one-on-one or for small groups from my backyard observatory. My observatory works perfectly as a studio from which I use Skype, Whatsapp, Facebook Messenger or FaceTime to video and audio-link with you to delivery the workshop electronically online. This format is fantastic, with many advantages:
I have all the equipment right there. I don't have to select a subset of my equipment to bring with me to your workshop.
Setting up all the equipment and showing you over the video link, inteactively with you, is very clear and easy to follow.
I have a fantastic internet connection, quality headset for consistent audio, high quality video recording, purpose designed lighting, to make sure the experience is clear and enjoyable.
Neither you nor I have any travel time. We can spend two hours sharing a workshop in an evening and at the end you are already home! no travelling!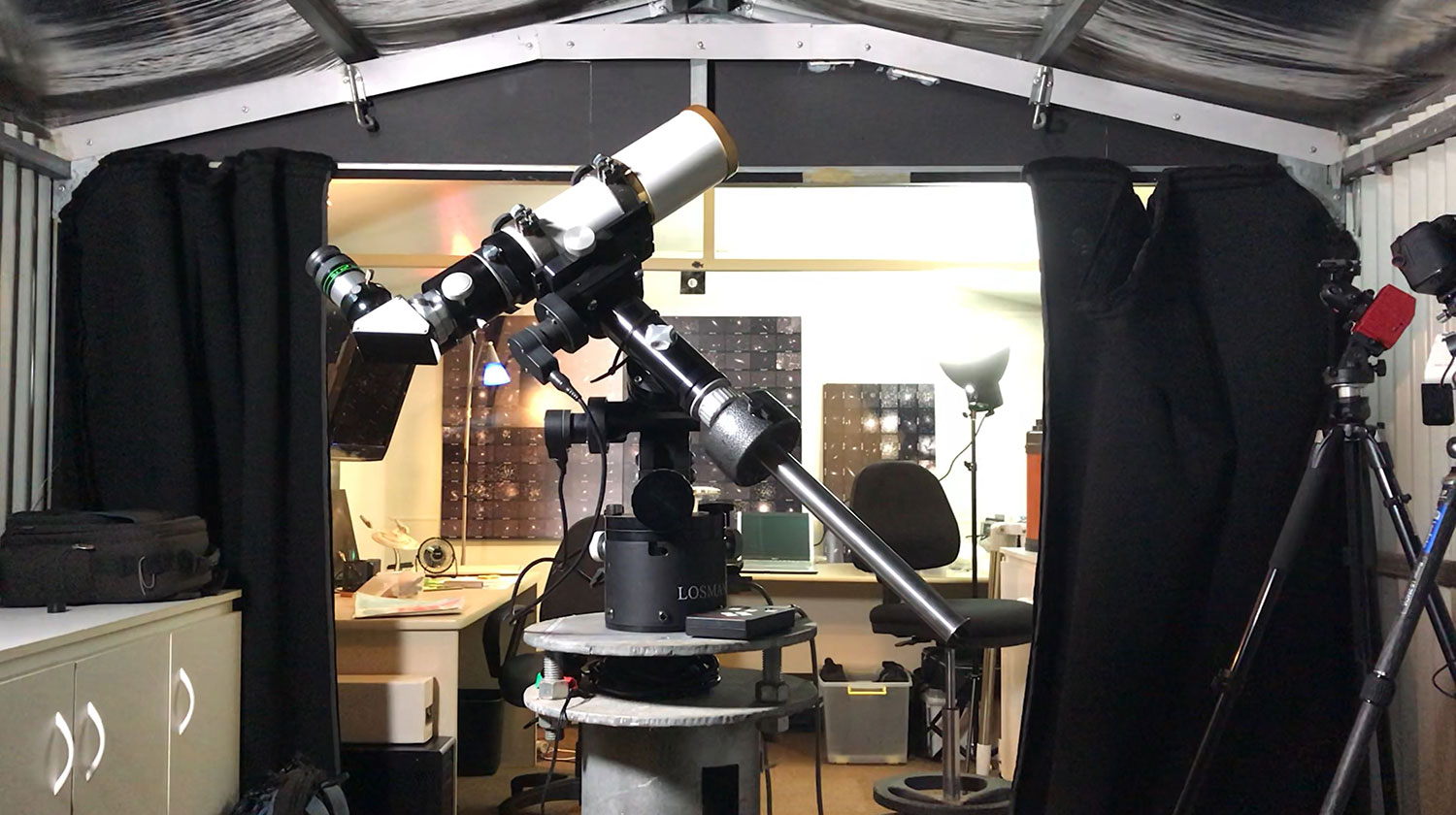 One-on-One Workshops
Get together with a friend or two to share the cost or just book for yourself, and enjoy an awesome night under the stars learning to use your camera for astrophotography!
I am happy to provide private lessons and workshops on Astrophotography. This can be done at the Perth Observatory, my dark sky site in the Central Wheatbelt (Shire of Cunderdin), your home, at selected parks and reserves, or at my personal private dark sky site, suitable to yours and my location. Lessons can be as long or short as you wish with the minimum being one hour, and may span several nights. A common approach is one night of three hours.
One-on-one workshops can be just for yourself or a group of friends. Up to five people works well for being able to dedicate sufficient time to each person in the group.
My broad experience with Astrophotography means that I can help you with not just Nightscapes but other forms of astrophotography also (Deep Sky, Planetary, lunar, solar and many more). These might be with a telescope or just your camera on a tripod.
Cost: $100 per hour. Travel is included within 30km of Midland, additional travel is charged at $50 within metro Perth (Western Australia), or quoted on application for more distant locations. Payment by EFT or in person (cash or PayPal Here credit card service). Groups of up to 5 are accepted for the one price. Contact Me to discuss what you would like to learn. You will be amazed how much you learn in simply two to three hours. Of course one-on-one workshops include use of my tracking mounts and other equipment as required for your area of astrophotography interest.
Astrophotography at the Perth Observatory
If you are interested in attending an astrophotography workshop at the Perth Observatory you can do so by attending one of my workshops below, or by booking a 1-on-1 workshop with me as per above.
Since 2013 I have run countless awesome workshop nights at the Perth Observatory with all participants overwhelmingly happy with their results and the fun nights.
Milky Way 2-night Workshop
Where:
Perth Observatory
Date:
Tuesday 20th & Wednesday 21st April 2021
Time:
7pm-9:30pm each night
Class size:
15 people maximum
Booking and more information:
https://www.perthobservatory.com.au/shop/events/spring-milky-way-photography
In case of cloud:
We will go ahead irrespective of weather, but in the case of cloudy conditions a telescope tour of the Perth Observatory and Astro Photography Australia equipment will be given and an additional two hours of specific image processing workshop presented.
A two night workshop Milky Way nightscapes workshop held on the grounds of the Perth Observatory. This workshop is designed to give you the best chance of taking your own stunning nightscape photographs in the subsequent two months of "milky way season" as the Milky Way rises in the south-east earlier and earlier each night through Autumn.
Lake Grace Astrophotography Workshop
Where:
Lake Grace
Date:
Saturday 1st May 2021
Time:
5:30pm – 8:30pm (exhibition opening talk prior at 3pm -4pm)
Class size:
15 people maximum
Booking and more information:
See
eventbrite informaiton page
In case of cloud:
Refer booking information
I will be travelling to lake Grace for an exhibition opening and astrophotography workshop event. The town is one of many in the AstroTourism WA network of astronomy and astrophotography friendly regional towns and this is a great opportunity to get out to some dark skies.
Lake Towerrinning Astrophotography Workshop
Where:
Lake Towerrinning, Moodiarrup, Shire of West Arthur
Date:
Saturday 15th May 2021
Time:
5pm – 8pm (you are welcome to continue longer, as I will myself!)
Class size:
15 people maximum
Booking and more information:
Booking informaiton at the Stargazers Club WA page
In case of cloud:
We will go ahead regardless. A shelter is available on-site for us to use in case of bad weather where we can discuss all you want to know about astrophotography.
Back again with Stargazers Club WA I'm looking forward to making the most of another AstroTourism WA region, this time the Shire of West Arthur. We will be running the workshop at Lake Towerrinning which has camping facilities, so I will be staying overnight and participants are encouraged to also.
Being an overnight workshop I look forward to a fun evening and probably even the next morning of chatting to participants about all things astrophotography, as well as the usual astrophotography practicals. The end time is listed as 8pm but you can be sure that weather permitting I'll be out there doing astrophotography much longer than that and I don't mind company.
Perth Observatory Day & Night Astrophotography Workshop
Where:
Perth Observatory, Bickley
Date:
Saturday 7th August 2021
Time:
1pm - 10pm
Class size:
12 people maximum
Booking and more information:
TBA - not yet available
In case of cloud:
We will continue with more Software demonstrations, Image Processing and discussion of specific scenarios.
This full afternoon and evening workshop will include astrophotography subjects as broad as wide-field Mily Way and nightscapes, planetary, solar, lunar, and Deep Sky astrophotography. More details to come via the Perth Observatory website.
Find out more
If you would like to discuss options for an astrophotography workshop or simply book one contact me to talk about the options. This is not a "one size fits all" situation, I discuss with you what you would like and we come to an arrangement that will suit you.