Workshops
Roger Groom, who runs this website Astro Photography Australia also hosts workshops on astrophotography in Perth Western Australia. This page outlines the current workshops planned. Follow links to the workshop information to make bookings or enquire.
I am passionate about astronomy and astrophotography, and love having any excuse I can to get others enthused also.
I am based in Perth, Western Australia and currently that is where I run my workshops. If you are interested in me running an Astrophotography Workshop for you, your community group, photography club, etc then you are welcome to contact me. All courses are night-time or weekend subject to my availability.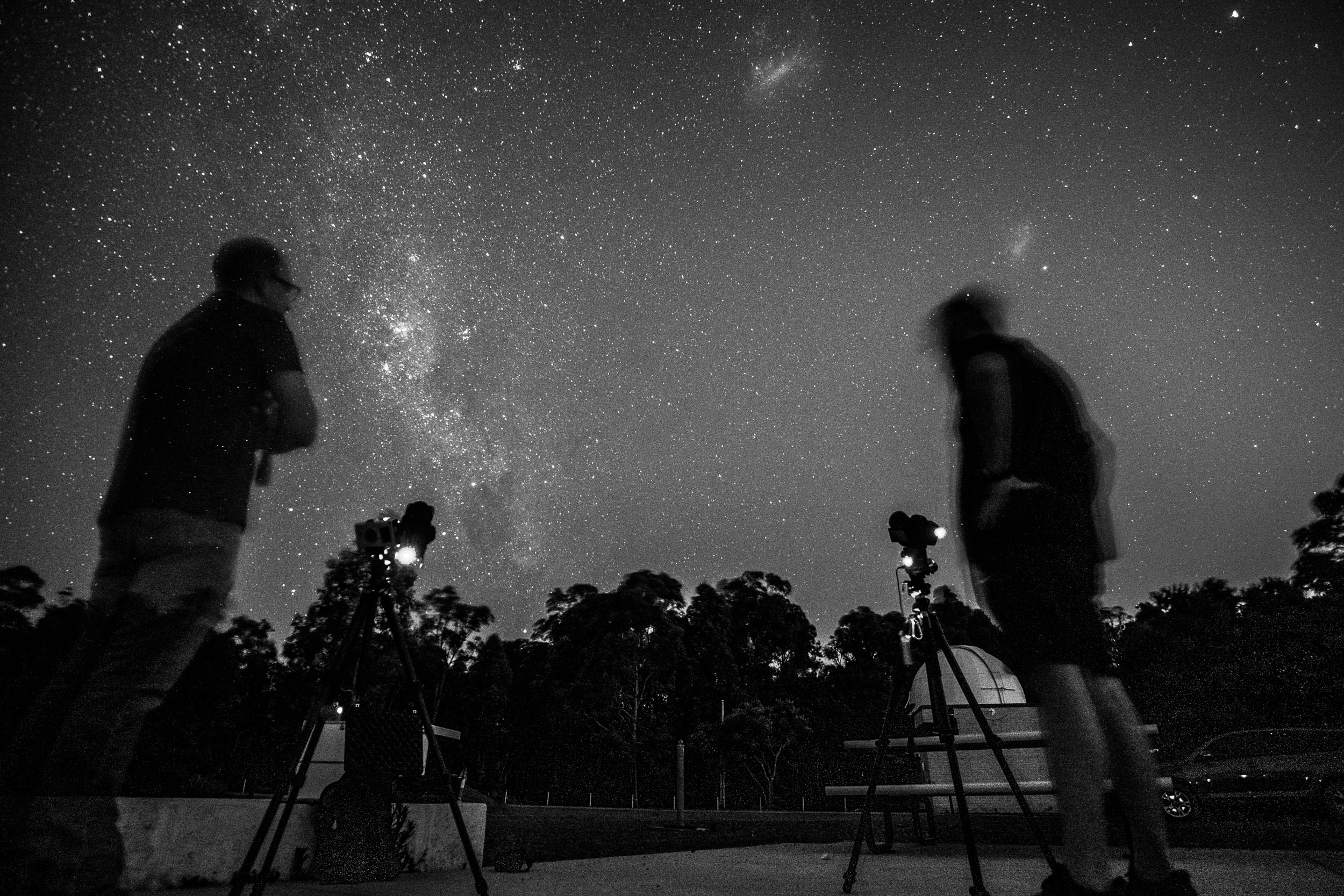 Why learn with Roger Groom
I have all the equipment for you to try astrophotography using your camera including several different models of the leading ultra-portable tracking mounts common for nightscapes. Try before you buy.
I maintain a set of up to date adaptors for fitting your camera to a telescope including 15 T-Rings for Canon (including Canon R), Nikon (including Nikon Z), Sony (Alpha and E mount), Pentax (K and M42 thread), Olympus, Panasonic Lumix, Fuji X.
I have over 20 years of astrophotography experience in a diverse range of subjects.
I communicate well with beginners through to advanced, able to work at your level of knowledge and adapt my experience to your scenario.
I ensure a fun, safe and enjoyable environment with creature comforts you would expect, welcoming people of all ages, gender and abilities.
Where I run Workshops
Astrophotography workshops are typically run at:
Perth Observatory - Located conveniently in the Perth Hills (subrub of Bickley) the Perth Observatory is a short drive from Perth suburbs and has good facilities.
My private dark sky site at Astro Observatories Western Australia (2 hours east of Perth in the Central Wheatbelt) which provides supurb dark skies, interesting forground elements and comfortable amenities, only a 1.5hr drive from the Perth Hills.
At your house. This is often suitable for people with telescopes that they regularly set up in their backyard. These suite one-on-one workshops. I come to you.
At Lake Leschenaultia in Chidlow, again in the Perth Hills
Photography, Astronomy and special interest clubs and groups - Contact me and request a quote.
Online - see below
Online Workshops
I run workshops online, live, one-on-one or for small groups from my backyard observatory. My observatory works perfectly as a studio from which I use Skype, Whatsapp, Facebook Messenger or FaceTime to video and audio-link with you to delivery the workshop electronically online. This format is fantastic, with many advantages:
I have all the equipment right there. I don't have to select a subset of my equipment to bring with me to your workshop.
Setting up all the equipment and showing you over the video link, inteactively with you, is very clear and easy to follow.
I have a fantastic internet connection, quality headset for consistent audio, high quality video recording, purpose designed lighting, to make sure the experience is clear and enjoyable.
Neither you nor I have any travel time. We can spend two hours sharing a workshop in an evening and at the end you are already home! no travelling!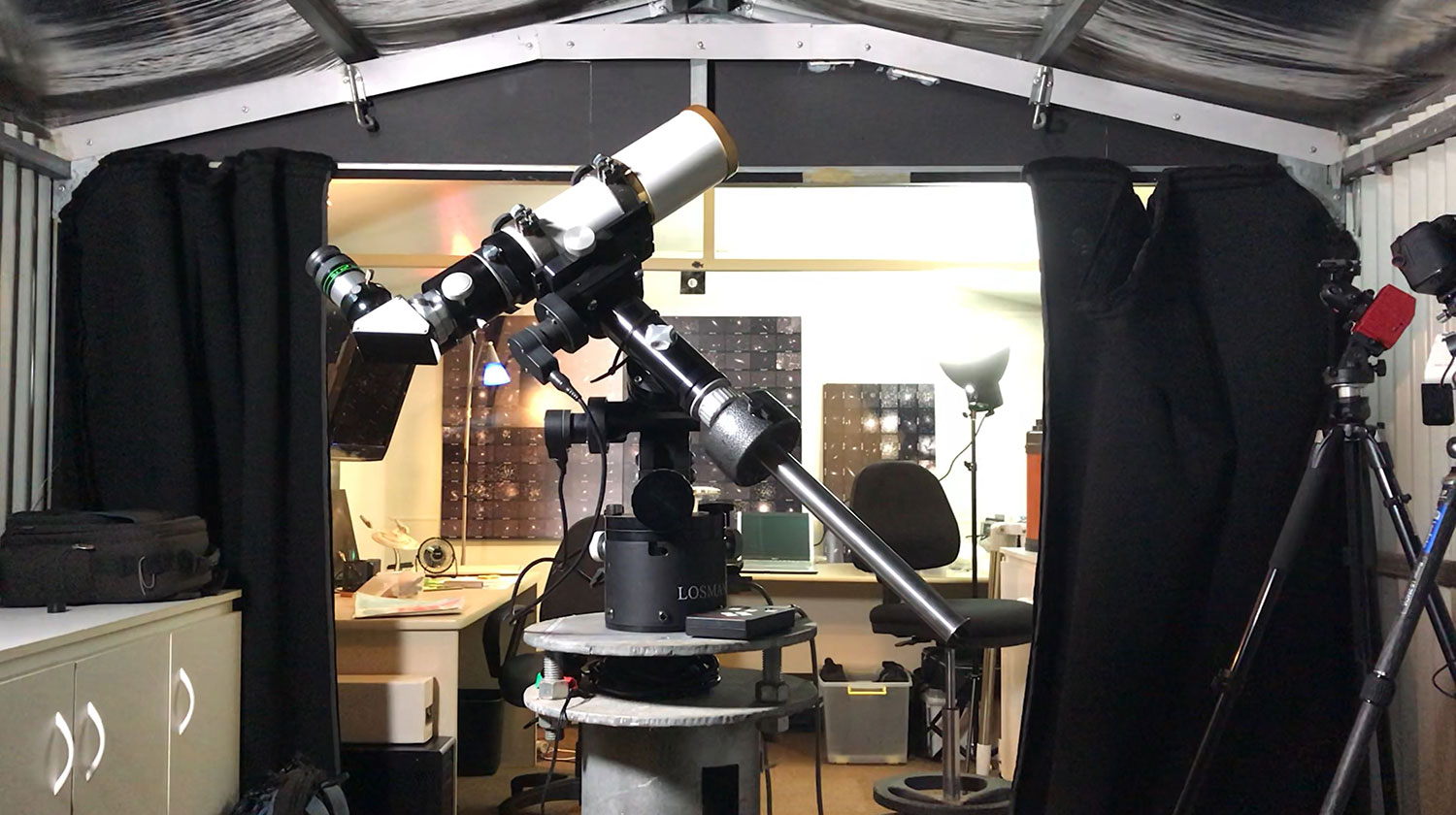 One-on-One Workshops
In 2022 I am replacing one-on-one workshops with regularly scheduled very small group workshops. This enables me to provide a tailored workshop experience for a small group of people with more certainty on availability.
If you are a one-on-one voucher holder, vouchers are valid for the small group workshops. If you would prefer to use your vouncher as a one-on-one rather than a small group workshop you can contact me to request booking a specific one-on-one lesson.
Small Group Workshops
In 2022 I am offering scheduled small group workshops each month. Here is a quick summary of these tailored workshops:
Held once per mont alternating between Tuesdays and Thursdays. Minimum class size is one photographer, maximum class size is 3 photographers.
Located at the Perth Observatory (337 Walnut Rd Bickley WA 6076) unless stated otherwise.
Booking for small group workshops is available via the EventBrite links below for each date.
Voucher holders for one-on-one workshops are welcome to participate, contact me to redeem your voucher.
More information: Small Group Workshops
Book A Workshop
See the upcoming workshops page which has links to book on currently scheduled workshops.
You can buy a voucher for workshops.
Contact me for group bookings, attending a club or social event, and other opportunities.
Keep Up To Date
To receive notifications of new workshops released please sign up to my newsletter: Sign up to my email list for notifications
Find out more
If you would like to discuss options for an astrophotography workshop or simply book one contact me to talk about the options. This is not a "one size fits all" situation, I discuss with you what you would like and we come to an arrangement that will suit you.